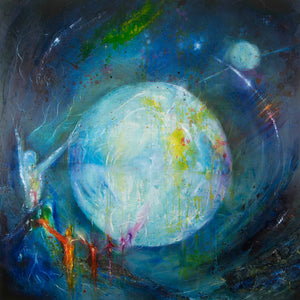 "Gold Fills the Cracks..." - Oil On Canvas
Regular price
$ 38,000.00 USD
---
"Gold Fills The Cracks…" (The Human Story - EIGHT)
"Look upstream, and to the edges,
to realise who We are.
Vivid gold fills the cracks of a broken world.
You are the Instrument of ALL of this."
Original Oil On Canvas. 170 cm x 170 cm
The Human Story in an art collection that is a visceral image of hope, in a chaotic world desperate for direction and harmony.
Download The Human Story Ebook
These paintings provide a powerful storytelling tool for us to reimagine what it means to be truly human, and recreate a world that works for all.
These 10 individual panels are vast in scope and size. Starting from the Big Bang (Human Story 1 – 100  x 100 cm), Through five distinct revolutions of human growth and worldview (Human Story 2-6 – 110 x 110 cm to 160 x 160 cm), to where we are now (Human Story 7 – 170 x 170 cm), to three possible human futures (Human Story 8-10 – 180 x 180 cm to 190 x 190 cm).
Each painting is both a window and a mirror. In contemplating each painting, you reflect on your own unique stages of growth through life, work, and culture, and see your own story interwoven in the vast reaches of these meta narratives, the cultural programs that run our lives. As a window, they provide unique insight into the worldviews of those around us. Each of these paintings is a range of possibility, a set of rose- (or red- or orange-) tinted spectacles that we wear but are unaware of. By making ourselves aware of these deep layers of programming, we can find new life and new possibilities inside us.
Through a guided visioning practise, you can be nudged towards a series of experiential openings that show us just how deeply invested we are in each other.
Original Oil on Canvas artwork is built upon many washes of colour, textures and oriental papers to obtain a delicate textured surface that feels vibrant, alive and unique. These are finished with thin and dense layers of oil paint on canvas to reflect a beautiful luminosity into your living or work space.
There are three payment options:
1. You can pay in full
2. Pay A Deposit. By getting in touch directly, you can make a deposit on the painting. By paying a deposit, you ensure your immediate ownership of the painting. You then get in touch directly with louis@louisparsons.com to make a payment plan to complete your purchase, arrange personal pick up, or delivery, and meet Louis in person at the studio, or at a place of your choosing.
3. Arrange a payment plan. You can arrange a payment plan with Louis Parsons directly. If you would like to consider this option, get in touch at louis@louisparsons.com